Contact Pamela Catapia:
South Granville Business Centre
Suite 232,  2628 Granville St.
Vancouver, BC   V6H 4B4
You're welcome to contact me by email, phone call, or by submitting the contact form below.  My office is private and spacious, inside a professional business centre with reception services and a waiting room; and located in a safe, attractive neighbourhood (South Granville).  There is a Starbucks cafe´ located at ground level. Please feel free to bring your coffee or tea with you to your session.
Office Location:
On Granville St. between 10th & 11th Ave.   Entrance to the business centre is accessible via the outdoor stairs (beside Marquis Bistro), or the indoor elevator (beside Pottery Barn or via the underground parkade).
Receptionist and waiting room is inside the entrance on the second floor–please have a seat in the waiting room, I will meet you there.
Front door will be locked after 5 pm; you may use the intercom to reach my cell phone.
Parking:  There are a few  2–hour free parking spaces available, meter parking on side streets, & pay parkades nearby (underneath the building is expensive & accepts credit cards only; try the parkade across the alley behind the building, Shopper's Drugs parking on 13th, CIBC parking on 13th, or Chapters' underground lot.
Cyclists: There is a bike locker in the parkade under the building–contact me or the receptionist for access instructions.  There is also a bike stand on the sidewalk in front of the building. 

Transit: The 99 UBC B-Line & many other buses stop at Broadway & Granville St.  Nearest Skytrain stop is Expo Line at Granville Station in downtown, connecting with the #8, #10, or #16 bus, which stops at Broadway & Granville.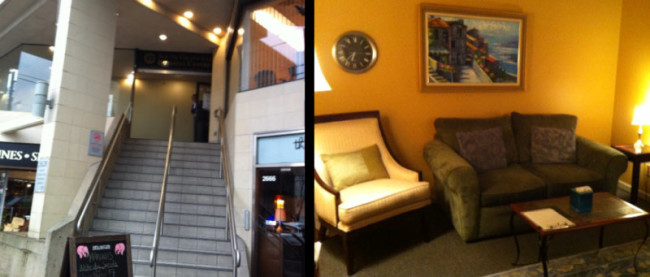 New Client Consultations:
I offer a free 15 minute initial consultation by phone or in person for any questions regarding my approach, training, & experience, to help ensure I'm an appropriate resource for your needs.  Like most counsellors, I take phone calls in between sessions, or at a pre-arranged time. To ensure we connect, I invite you to email me to set a pre-arranged  time for you initial consultation, if you desire one.
Your first appointment can be arranged during that consultation call or can occur right after the 15 minute in-person consult.  You may also initiate your first appointment or consultation by submitting the form below, listing your preferred days and times in the message section, and I will respond within 24–48 hours.
Sessions:
Counselling/Coaching sessions are often once a week or every other week at first. Each session can be 60 or 90 minutes long.  However, some clients find it more effective to do 2–hour sessions, especially if travelling a long distance. Just let me know if you prefer 2–hour sessions when we book your appointment.
Presentations and Training:
Please fill out the form below with topics you would like me to cover and submit. I will email you back within 2 business days.
Cancellation Policy:
I need a minimum of 48 hours notice if you are unable to keep your appointment.  No shows or appointments cancelled in less than 48 hrs of your appt. time will incur a cancellation fee of $100, unless you developed a sudden illness or were in an accident.